Super 8 Film Supplies
Head over to our online shop (you will be directed to another website – DigitalMix) to purchase any of the items below.
Secure online payment with Stripe or bank transfer.
Shipping to NZ addresses only.
Looking for film supplies? Look no further!
With the resurgence in traditional film making, we stock a variety of film supplies such as Super 8 film, splicing tapes and leaders. At present we carry stock of:
Kodak Super 8 film – certain film types – see below
Kodak Acetate Leaders in both Regular 8 and Super 8 formats
16mm film leader – Double perforation
Kodak splicing tape (non perforated) available on a per roll basis
In house manufactured film reels (aluminium / plastic)
We also stock empty film reels.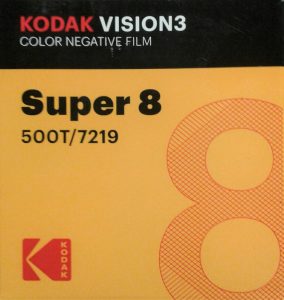 Super 8mm film options
Kodak Vision3 50D 7203
Kodak Vision3 200T 7213
Kodak Vision3 500T 7219
B/W Tri X Reversa
For more information on Kodak Super 8 films please click here
Double 8 Film and other film stocks can be found at Super8tv.
We offer a full HD film scanning service for 8, Super 8, 9.5 and 16mm film, click here to go to our film scanning page
Please ensure you are ordering the correct film for your camera and application, we cannot accept returns and will not refund film sales. Film is sold subject to the conditions below and our standard terms of trade which is available on request. By ordering film you acknowledge the terms and conditions as set out below and accept these terms unconditionally.
These images show the difference between a Regular 8mm film camera and a Super 8 camera.
Unfortunately film for Regular 8 is no longer available from Kodak.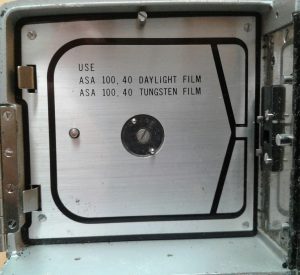 If your camera looks similar to the Super 8 image above then chances are we have a film cartridge to suit.
For Canon Cameras follow this useful link
Super 8 Wiki can be found here
For 16mm film or other specialist films please contact us.
Terms and conditions for film sales – please note
Payment is up front and no refunds or exchanges will be considered

No returns on film sales

We do NOT process film, contact Nanolab or Reversalcine for processing needs

Courier fees / postage excluded

Not all film stock is ex stock – special orders are subject to a minimum order quantity and delivery times of up to 3 weeks.
Film leaders and splicing tapes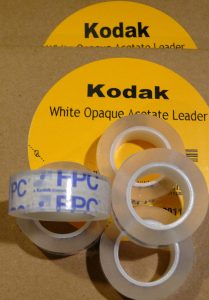 Kodak acetate leaders and splicing tapes
Film Leaders for 8mm, Super 8mm and 16mm film
New Super 8 Film Accessories
We manufacture and sell a range of Super 8 film accessories. We have a light engineering facility and 3D printing capabilities. Products are designed and printed in-house with locally sourced materials. Laser cut aluminium components ensure consistency across the range.
Our range of film reels are manufactured from laser cut aluminium sides with high quality plastic hubs and dress rings 3D printed with ABS plastic.
Film reels – 400ft / 180mm Diameter
Film Reels – 200ft / 130mm diameter
Film Reels – 50ft / 75mm Diameter
Hub adaptors
Adapter required for our Super 8 reels on regular 8 projection equipment. 3D printed available in Yellow or White
Super 8 hub / spindle adapter, this allows our Super 8 reels to be used on regular 8 projection equipment.
Watch this space for developments or contact us to pre order.
Under development
100ft reel
600ft reel
Film canisters
Film reel holders
Used Film Reels
We stock used empty film reels for 8 and Super 8 film. These are used reels in good condition. Subject to availability and stock levels.
Actual items may differ to what is pictured.
Payment is "up front" and no refunds will be considered once orders have been placed.
Contact us for current pricing on Kodak film stock.
Other stuff
They say that necessity is the mother of invention, some of our other items produced in house to enhance our operations, all items are made to order.
Blackmagic Micro Converter Cable Brace / Support System
Blackmagic Micro Converter Cable support and bracing bracket. Designed for use on the Blackmagic Micro Converter series, this bracket prevents the HDMI and power cables from being damaged or removed during service. Manufactures from ABS plastic these braces are available in Yellow and White (for now). Note the price does not include the converter pictured above, the converter is pictured for illustrative purposes only.
This caddy is designed for the Blackmagic range of micro converters. Cameras that do not have SDI outputs can use this caddy to support a SDI to HDMI converter, slides along a 75mm rail system with 15mm tubes.
This cable support slides along a 15mm rail system and provides much needed support for connecting cables on a shoulder rig camera system
Cassette Cases:
We stock a variety of empty cassette cases and reels.
Empty VHS cassette cases
Supply reels
Take up reels
Mini DV cases
Betacam cases
VHS C cases
Audio Reels (1/2 inch)
75mm diameter empty reel
125mm diameter empty reel
175mm diameter 8 empty reel