Cine / Film Equipment Hire
We have the following equipment available for short term rental.
Super 8 / 8mm film viewers – 12cm screen
Bolex film viewer – 35cm screen
Chinon Dual Master – 18cm screen
Super 8 / 8mm film splicers (splicing tape and leaders available for purchase)
Kodak 35mm Slide projector – SAV2050
ELMO Transvideo 35mm slide to video converter & SD monitor
VHS VCR's
Analogue to firewire converters
We will credit 25% of the hire fee if you choose to have your films converted to digital files or DVD's with us. Click here to go to our film conversion page. We offer a free viewing facility at our premises. Customers are welcome to book a time to view film or video cassettes at our premises at no charge, please contact us to set up an appointment.
Cine Projector / viewer Hire
Super 8 / 8 mm film viewer hire – $15 per day
Bolex 102MTC Projector / Viewer – $ 20.00 per day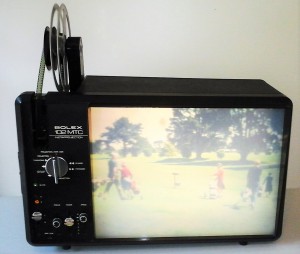 Chinon Dual Master film viewer – $ 20.00 per day
The Chinon Dual Master film viewer has gates for both regular 8 and super 8mm film. The 175mm screen makes it easier to view than the standard viewers. Supplied with suitable take up reels.
Film Splicer Hire
Super 8 / 8mm film splicer – $ 10 per day (excludes splicing tapes and leaders which are available for purchase)
Slide Projector Hire
35mm Slide Projector hire – $ 35 per day
Kodak SAV 2050 with carousel, dual lamp, zoom lens and power cable.
The ELMO Transvideo 35 is a 35mm slide projector with a SD video camera built in. Connects directly to a monitor / TV with CVBS video inputs (Yellow RCA or BNC connector). Supplied with or without a SD video monitor ($10 per ay for the monitor)
Video Equipment Hire
We offer a video equipment hire service, you will need a PC / MAC that has a firewire port and video capture software.
VHS recorder hire – $ 10 per day.
14″ Monitor with composite video inputs – $ 10 per day.
Data Video DAC 200 analogue to firewire converter. – $ 10 per day.
Terms and Conditions
Prices listed above include GST
$100 bond payable up front, which will be refunded when the equipment is returned and is fully functional, this excludes lamps which fail electrically due to a blown filament.
The customer is fully responsible for the safe keeping of the equipment and is liable for full replacement value in the event of total loss or damage. Any repairs required due to accidental damage are the customers responsibility.
Hire period is calculated as a 24 hour day starting from the time the equipment leaves our premises.
Customers outside Auckland are liable for courier charges both ways and are responsible for using a signature required service for return to our premises.
We do not accept responsibility for damage caused to film or video tapes caused by machine failure or any other cause. We do our best to keep the machinery in good working order but cannot accept responsibility for any damage however caused.
Dirty tapes that cause machine failure or clogged heads will be subject to a call out fee, alternately bring the machine back to us for cleaning / repair.
For a full list of T & C please contact us.
Looking for film supplies? We supply
Kodak Vision 3 Super 8 film, 50D, 200T and 500T cartidges
Kodak acetate leaders for Super 8 and Regular 8mm film
Kodak Splicing tapes
Take up reels, 50ft, 200ft and 400ft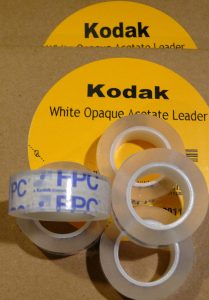 Kodak acetate leaders and splicing tapes