DVD Conversions Limited
&
Digital Mix Corporate Video Production Limited
Opening Hours
Under level 3 we are unable to have direct customer contact. We will be offering our full range of conversion services using couriers where possible. Customers can deliver and collect from our premises, payments can be made online. See our trading conditions below.
Monday to Friday – 8:30 to 17:00 After hours by appointment, please don't hesitate to call.
Saturday – 09:00 to 13:00 – After hours by appointment, please don't hesitate to call.
Sunday – By appointment. We are happy to meet you or set a time for collection or delivery of goods, kindly call us to arrange a time.
Office phone – 09 320 3586
DVD Conversions Limited
Digital Mix Corporate Video Production Limited
Unit 6, 115 Elliot St
Howick
2014
Auckland, NZ
Corner of Wellington and Elliot Street, Howick, East Auckland, customer entrance in Wellington Street.
Look for the Digital Mix / Kaleidoprint signage, that's us!
Ample Street parking and customer entrance situated in Wellington Street (unit 6)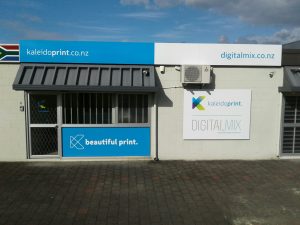 Customer entrance in Wellington Street
Dion Edwards – Technical Director
Email: dion@nulldvdconversions.co.nz
Mobile: 022 600 4694
Tanya Edwards – Financial Director / General enquiries.
Email: tanya@nulldvdconversions.co.nz
Mobile: 021 02 967414
---
Courier Service
Do you want us to arrange collection of your tapes?
Call us to arrange for our courier to collect your tapes.
We need the following information from you.
Pick up address, day time address with someone present.
Phone number.
Package dimensions and weight.
Goods must be packed and correctly labelled.
Please include all you contact details and a return address.
We use Courier Post NZ for our collections and deliveries, we cannot assume any responsibility for the couriers.
Courier charges will be added to the final invoice.